The Dolorama Trail: panoramic enjoyment
Mountains and forests as far as the eye can see. Boundless meadows. Babbling brooks. Crystal-clear lakes. Peace and quiet. And right in the middle of it: you! This and so much more awaits you along the Dolorama Trail, which leads from Alpe di Luson/Lüsner Alm and Alpe di Rodengo/Rodenecker Alm around the majestic Sasso Putia/Peitlerkofel to your destination, the quaint village of Lajen. The long-distance hiking trail in the Dolomites covers 61km and is divided into four stages. The route is well signposted: look out for the green symbol with the words "Dolorama Trail".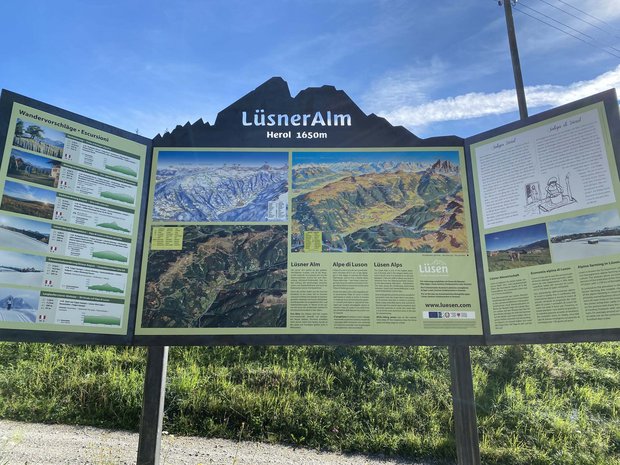 Stage 1: Alpe di Luson/Alpe di Rodengo – Maurerberg hut
20.4km | 941m ascent| 6.5 hours
The first stage of the Dolorama Trail leads from the Zumis carpark near our accommodation in Lüsen across the gentle meadows of Alpe di Rodengo/Rodenecker Alm and Alpe di Luson/Lüsner Alm to Maurerberg hut. First, follow the eight stations of the Creation Trail until you reach Roner Alm. From there, continue to Rastner hut and Starkenfeld hut, then to Steiner Alm and Kreuzwiesen hut. Now, hike up to the peak of Campill (2,190 metres), which offers a 360-degree view of Alpe di Luson/Lüsner Alm and Alpe di Rodengo/Rodenecker Alm as well as the Dolomites and various peaks of the Austrian Alps. Then, walk past St. James Chapel to reach the Anton Schwingshackl Path and finally the Maurerberg hut.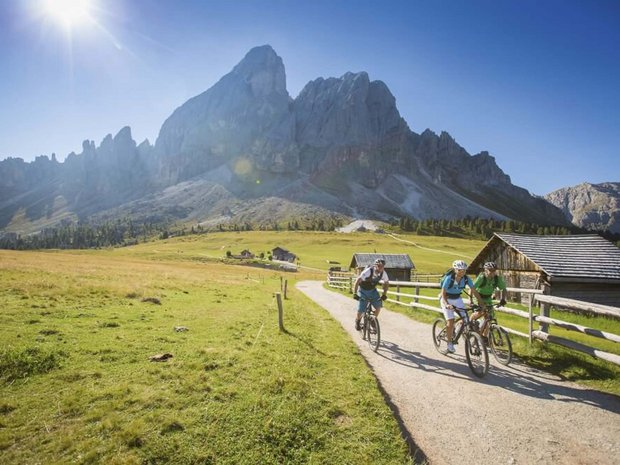 Stage 2: Maurerberg hut – Schlüter hut
14.7km | 718m ascent| 5 hours
The name "Dolorama" is a combination of the world "Dolomites" and "Panorama" – and that's exactly what awaits you on the second stage of the tour. From Maurerberg hut you first hike to Paso delle Erbe/Würzjoch and circle majestic Sass de Putia/Peitlerkofel, also known as the "Gateway to the Dolomites". Then you continue up to the 2,100-metre-high Göma Joch, which offers you a truly stunning view of the Dolomites. Continue your hike across lush-green meadows, past Vaciara Alm and small Alpine huts up to Schlüter hut, flanked by Odle/Aferer Geisler and Funes/Villnösser Geisler.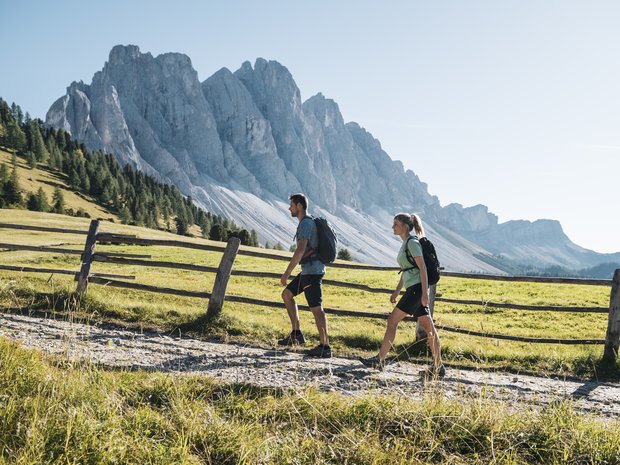 Stage 3: Schlüter hut – Raschötz hut
16.2km | 664m ascent| 5 hours
On the third stage of the Dolorama Trail, you descend from Schlüter hut to Gampenalm. From there, follow the Adolf Munkel Path at the foot of Gruppo delle Odle/Geislergruppe to Geisleralm and Gschnagenhardt Alm. Continue your hike past Brogles Alm to Brogles Sattel. It is worth taking a look back here, because behind you, the peaks of Odle/Geisler rise majestically towards the sky, with Seceda and Val Gardena/Gröden just behind them. The route continues across meadows and pastures to Raschötz hut, which is located slightly below the peak of Außerraschötz.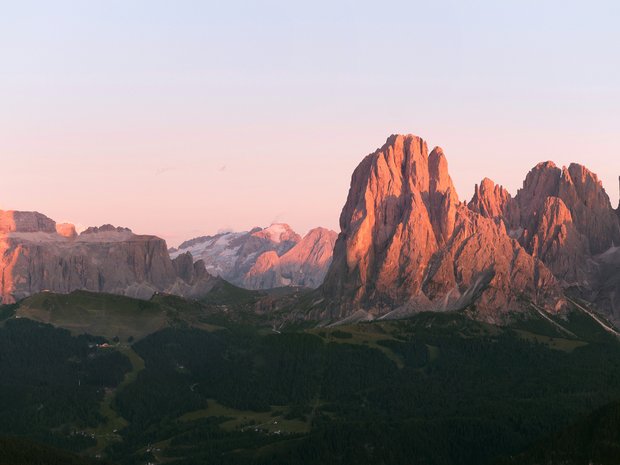 Stage 4: Raschötz hut – Lajen
9.7km | 33m ascent| 3 hours
The fourth and last sage of the Dolorama Trail leads slightly uphill from Raschötz hut to Heilig Kreuz Chapel, and then downhill past Tschatterlin Sattel, Ramitzler Schwaige, Unterpulg hut, and the small village of Tschöfas. Your destination, Lajen, is now within reach.
The Dolorama Trail is a moderately difficult hike. It involves no climbing and consists almost entirely of wide paths through dense forests and across picturesque meadows. If you're in the mood for a hike while on holiday at our hideway in South Tyrol, we can highly recommend the panoramic Dolorama Trail.